Christian McBride, John Clayton Highlight Virtual Tri-C JazzFest
Aug. 21-23 festival to feature live interviews with Grammy Award-winning musicians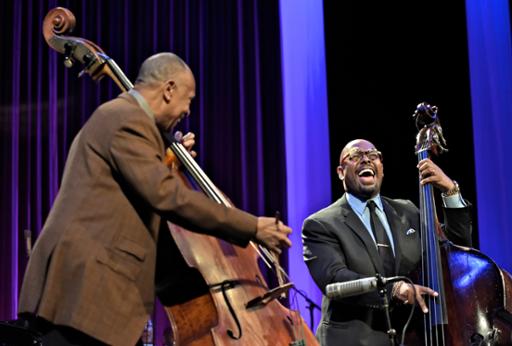 Two of the jazz world's preeminent bassists — Christian McBride and John Clayton — will share stories via live chats during the virtual edition of the 41st annual Tri-C JazzFest Cleveland, presented by KeyBank.
Each Grammy Award winner highlights a night of music during the three-day online event Friday, Aug. 21, to Sunday, Aug. 23. Listen for McBride on the festival's first day; Clayton is set to call in Saturday, Aug. 22.
The free virtual festival begins at 7 p.m. each night and will run approximately 90 minutes on various online platforms. The interviews with McBride and Clayton will share the spotlight with pre-recorded and live performances by Cleveland's best jazz musicians.
"Christian and John are favorites of the Cleveland jazz audience," said Terri Pontremoli, the festival's director. "It's not only because of their stellar musicianship, either. They're great personalities."
The two served as back-to-back artists-in-residence at Tri-C JazzFest in 2014 and 2015. During their upcoming calls, McBride and Clayton will talk about their residency experiences at the festival and on campus working with students at Cuyahoga Community College (Tri-C®).
They will also tell stories about their shared mentors — legendary bassist Ray Brown and famed music producer Tommy LiPuma — and share other tales about their life in jazz.
Visit 2020virtualjazzfest.eventbrite.com to register for the festival, which will stream on Tri-C JazzFest's website, YouTube and Facebook pages. A list of performers taking the virtual stage can be found at tri-cjazzfest.com.
The lineup includes more than a dozen acts, including the Dan Wilson Trio, Evelyn Wright Quartet, Sammy DeLeon's Latin Jazz Sextet, Vanessa Rubin, Joe Hunter, Hubb's Groove and more.
Acclaimed trumpeter Dominick Farinacci will co-host the virtual festival with Pontremoli and also perform. His path to becoming an international recording artist began in Tri-C's classrooms two decades ago.
The virtual event will be free, though viewers will have the opportunity to donate to Tri-C's Student Emergency Fund. Money raised will specifically benefit creative arts students experiencing unforeseen financial challenges with the potential to derail their studies.
Tri-C JazzFest turned to the online format after restrictions related to the COVID-19 outbreak forced a change in plans. The traditional festival typically draws tens of thousands of music lovers to Cleveland's Playhouse Square.
The virtual Tri-C JazzFest Cleveland is presented by KeyBank and made possible by Cuyahoga Community College, the National Endowment for the Arts, the Ohio Arts Council, Strassman Insurance Services Inc., The George Gund Foundation and a growing list of donors and vendors.
August 14, 2020
John Horton, 216-987-4281 [email protected]