2021 Collegiate Jazz Festival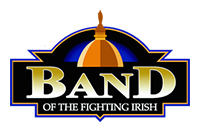 Notre Dame's 63rd annual Collegiate Jazz Festival will be held on Saturday, April 17, 2021, from 12:00 noon until 8:00 p.m.
THE CLINICIANS
There are 5 professional clinicians, who will adjudicate and critique the participating college jazz ensembles. The clinicians have been assembled by John Clayton, who has been an outstanding clinician at CJF several times in the past. These five world-class musicians are:
The Notre Dame Collegiate Jazz Festival is the oldest and most prestigious jazz festival in the nation with a rich history of great collegiate bands, and a long line of incredible clinicians. The event brings together collegiate bands from across the nation to perform in a non-competitive setting. A group of world-class, professional jazz musicians provide helpful comments to the college bands and top off the evening with an amazing clinic open to everyone. It is our honor to host so many worthy bands and clinicians once again this upcoming spring. Join us in celebrating a festival of America's original art form in this truly unique Notre Dame event.
The Collegiate Jazz Fest Performers
Six collegiate jazz ensembles will participate:
University of Notre Dame Jazz Band 1
Texas State University Jazz Ensemble
Texas State University Jazz Orchestra
Columbia College Chicago Fusion Ensemble
Western Michigan University Little Big Band
Michigan State University Jazz Orchestra

For questions regarding CFJ, please contact: Professor Larry Dwyer ([email protected]) or Mr. Matt Merten ([email protected])