Celebrating Norman Granz w/Benny Green, John Clayton and Jeff Hamilton
April 28, 2022 7:30PM ~ Alliance Theatre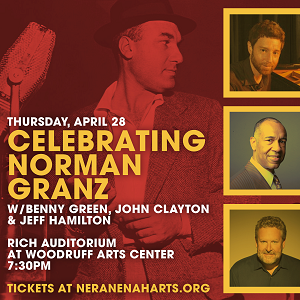 A celebration of the deeply influential, yet often overlooked, concert presenter, producer, record label founder, and overall champion of both musicians and civil rights, Norman Granz – with jazz icons: Benny Green, John Clayton, and Jeff Hamilton.
Benny Green: Benny Green possesses the history of Jazz at his fingertips. Combine mastery of keyboard technique with decades of real world experience playing with no one less than the most celebrated artists of the last half century, and it's no wonder Green has been hailed as perhaps the most exciting hard-swinging, hard-bop pianist to ever emerge from Art Blakey's Jazz Messengers.
Benny's list of credits, accomplishments, and accolades could literally fill a book. His recordings with the masters form a foundation of Jazz education. Some notable highlights include: Beginning his touring life with Betty Carter for four years and realizing a life long dream of becoming a Jazz Messenger; In 1993 Oscar Peterson chose Benny as the first recipient of the City of Toronto's Glen Gould International Prote´ge´ Prize in Music culminating in Oscar & Benny (1998), recorded for Telarc. Appearing on well over one hundred recordings, with legacy artists such as: Betty Carter (including Grammy award winner Look What I Got), Art Blakey & the Jazz Messengers, Freddie Hubbard, Bobby Watson, Milt Jackson, Diana Krall, and he is particularly featured in Ray Brown's trio series of CD's for Telarc: Bass Face (1993), Don't get Sassy (1994), Some of my best friends … (1994), Seven Steps to Heaven (1995), Super Bass (1996) and Live at Sculler's (1996), to fresh faces like Japan's young drum virtuouso, Tiger Onitsuka.
John Clayton: Bassist, Composer, Arranger and Producer, John Clayton, is a busy man. With a Grammy on his shelf and nine additional nominations, artists such as Diana Krall, Paul McCartney, Regina Carter, Dee Dee Bridgewater, Gladys Knight, Queen Latifah, and Charles Aznavour have had spots on his crowded calendar.
In 1985 John, co-founded the Clayton-Hamilton Jazz Orchestra and rekindled The Clayton Brothers Quintet. In addition to individual clinics, workshops, and private students as schedule permits, John also directs the educational components associated with the Centrum Jazz Festival and Workshop, and Vail Jazz Workshop.
Career highlights include arranging the 'Star Spangled Banner" for Whitney Houston's performance at Super Bowl 1990 (the recording went platinum), playing bass on Paul McCartney's CD "Kisses On The Bottom," arranging and playing bass with Yo-Yo Ma and Friends on "Songs of Joy and Peace," and arranging playing and conducting the CD "Charles Aznavour With the ClaytonHamilton Jazz Orchestra," and numerous recordings with the Clayton Brothers, the Clayton-Hamilton Jazz Orchestra, Milt Jackson, Monty Alexander and many others.
Jeff Hamilton: Born in Richmond, Indiana, Jeff grew up listening to his parent's big band records and at the age of eight began playing drums along with Oscar Peterson records. He attended Indiana University and later studied with John Von Ohlen. Jeff was influenced by Gene Krupa, Buddy Rich, Mel Lewis, "Philly" Joe Jones and Shelly Manne. In 1974, he got his first big break playing with the New Tommy Dorsey Orchestra. He then joined Lionel Hampton's Band until 1975 when he, along with bassist John Clayton, became members of the Monty Alexander Trio. He attained a childhood goal in 1977 when he joined Woody Herman and the Thundering Herd, with whom he made several recordings. In 1978, he was offered the position vacated by Shelly Manne in the L.A.4 with Ray Brown, Bud Shank and Laurindo Almeida. He recorded six records with the L.A.4, some of which featured his own arrangements and compositions. From 1983 to 1987, Jeff performed with Ella Fitzgerald, the Count Basie Orchestra, Rosemary Clooney and Monty Alexander. Jeff began his association with the Ray Brown Trio in 1988 and left in March 1995 to concentrate on his own trio. From 1999-2001, the Clayton/Hamilton Jazz Orchestra was named the in-residence ensemble for the Hollywood Bowl Jazz series. The Los Angeles Jazz Society named Jeff and his musical partner, John Clayton, musicians of the year for 2006. A banquet in their honor was held at the Los Angeles Marriott Downtown Hotel. Click here for pictures from the event. Jeff is currently touring with his own Trio, the Clayton-Hamilton Jazz Orchestra and Diana Krall.
In addition to his many recordings with Ray Brown, Jeff has been on nearly 200 recordings with artists such as Natalie Cole, Diana Krall, Milt Jackson, Rosemary Clooney, Barbara Streisand, Mel Torme, John Pizzarelli, Benny Carter, Lalo Schifrin, George Shearing, Dr. John, Clark Terry, Gene Harris, Toshiko Akiyoshi, Scott Hamilton, Harry "Sweets" Edison, Keely Smith, Bill Holman, Herb Ellis, Barney Kessel and Mark Murphy. Jeff is a frequent guest of the WDR Big Band in Cologne, Germany. He also appeared in Natalie Cole's Great Performances PBS special, Unforgettable and an Oscar Peterson documentary, Life In The Key Of Oscar.