The Jazz Cruise '22 – WHERE STARS SHINE, NIGHT & DAY
January 17 – 24, 2022
For over 20 years, The Jazz Cruise has presented the very best in straight ahead jazz. With over 200 hours of music, 100 jazz musician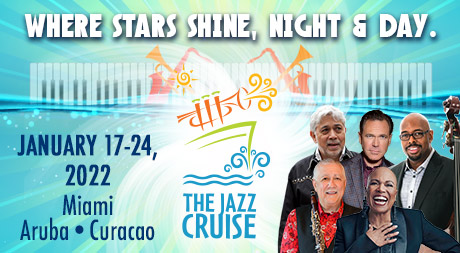 s including legendary jazz masters, a fully renovated ship and, most importantly, a legion of loyal guests from all over the world, more than ever, The Jazz Cruise '22 will be WHERE STARS SHINE, NIGHT & DAY.
Though The Jazz Cruise is about music and more music, we are excited that we will visit, for the first time, the beautiful ports of Aruba and Curacao during our cruise. And, you will able to enjoy a new level of luxury and accommodations on our Revolutionized Celebrity Millennium Class Ship, a process during which each and every stateroom was removed and replaced with new amenities, new décor, new bedding and much more.
The Jazz Cruise begins its 3rd decade of sailing with the best lineup of musicians, a ship that provides both excellent venues and accommodations and the excitement of returning to sea. The anticipation is palpable. This is one sailing that you do not want to miss!  CLICK HERE FOR MORE INFO. AND TO BUY TICKETS!