The Jazz Cruise ~ Jan 6-13, 2023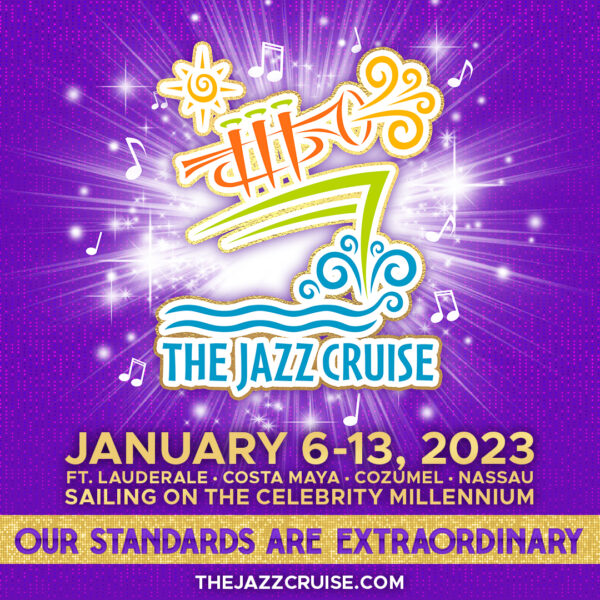 The Jazz Cruise is the first and only full-ship cruise charter dedicated to "straight-ahead" jazz. After more than two decades of producing the best jazz-only festival in the world, The Jazz Cruise is hailed by both the musicians and guests as Jazz Heaven.
For those of us who have experienced this 7-day, 7-night presentation of jazz magic, we simply call it…The Jazz Cruise!
The Jazz Cruise lineups are comprised of Performing Groups, The Jazz Cruise Leaders and Musicians who perform as members of Anita's Big Band and in All-Star settings. With sidemen, the Performing Groups account for nearly 65 jazz musicians. There are roughly 10 more outstanding artists who serve as The Jazz Cruise Leaders. The remaining 25 musicians are Big Band members and All-Stars.
PERFORMING GROUPS
WYNTON MARSALIS  Special Guest  DEE DEE BRIDGEWATER   CHRISTIAN MCBRIDE   MONTY ALEXANDER   KURT ELLING   JOEY DEFRANCESCO   JOHN PIZZARELLI   ETIENNE CHARLES   TIERNEY SUTTON   ANN HAMPTON CALLAWAY   BILL CHARLAP   HOUSTON PERSON   JEFF HAMILTON   STEVE TYRELL   CHRISTIAN SANDS   SAMARA JOY
THE JAZZ CRUISE LEADERS
SHELLY BERG Music Director  JOHN CLAYTON Big Band Director  EMMET COHEN  RANDY BRECKER  WYCLIFFE GORDON  NIKI HARIS  KEN PEPLOWSKI  ALONZO BODDEN Comedian
ALL-STARS & BIG BAND
JOHN ALLRED  PATRICK BARTLEY  BILLY CHILDS  JOHN FEDCHOCK  ERIC HARLAND  JAMES MORRISON  LEWIS NASH  JAVIER NERO  DICK OATTS  NICKI PARROTT  RENEE ROSNES  ADA ROVATTI  BRIA SKONBERG  GARY SMULYAN  TERELL STAFFORD  BIJON WATSON  JENNIFER WHARTON  RODNEY WHITAKER  MATT WILSON  RICKEY WOODARD
MORE THAN 100 MUSICIANS
This lineup does not include the band members for the Performing Groups, many of whom are leaders and soloists. When announced, there will be more than 100 of the world's very best "straight-ahead" jazz stars on the cruise. At this time, we can share the names of a few of the band members:
VINCENT ECTOR  PASQUALE GRASSO  BENNY GREEN  JON HAMAR  LAFAYETTE HARRIS, JR.  TAMIR HENDELMAN  TIM HORNER  MATTHEW PARRISH  TED ROSENTHAL  KENNY WASHINGTON  PETER WASHINGTON  MARTIN WIND