THE UM JAZZ AMBASSADORS FEATURING JOHN CLAYTON
FRIDAY JULY 1ST, 7:00-10:15PM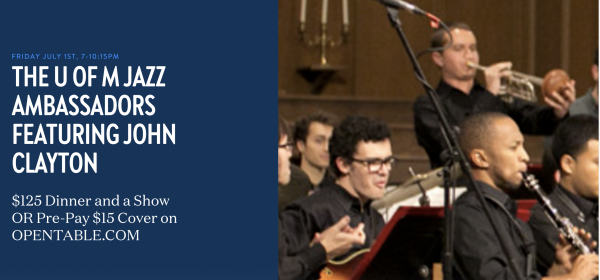 The Jazz Ambassador students perform the first set of the evening, starting at 7 pm, while the second set will feature members of the UM Jazz Faculty, including Andrew Bishop, Ellen Rowe, Chris Buzzelli, David Alvarez and special guest John Clayton. The last set of the evening will be led by current UM Jazz DMA student saxophonist Harrison McComb, who will be joined by MM student guitarist Jordan Rattner, undergraduate bassist Ben Powell and David Alvarez again on drums.
The UM Jazz Ambassadors program, led by UM Jazz faculty member Ellen Rowe, is an all-scholarship jazz camp, funded by a generous donor, to provide some of Michigan's finest young jazz players a chance to work with an incredible guest jazz musician/educator as well as the UM School of Music, Theatre & Dance's outstanding jazz faculty. This year's guest artist/educator is bassist/composer John Clayton. Thanks to the kindness of our donor, all expenses for the selected students are covered, including tuition and room & board. The students are recommended by their high school band directors or private music teachers, and then invited to audition. A group of 6 or 7 players, selected to make up a complete jazz combo, is picked through a highly competitive adjudicated process.
During the week the students study jazz history, improvisation and theory, receive two private lessons from U of M Jazz faculty and have two combo coachings a day from Mr. Clayton. The week culminates with a performance at the Blue LLama Jazz Club on the last evening of the workshop, which this year will be Friday, July 1. Administrative support for the program is provided by the SMTD's MPulse program as well as the Outreach and Engagement Office.