A Very Special Evening – Give the Band a Hand!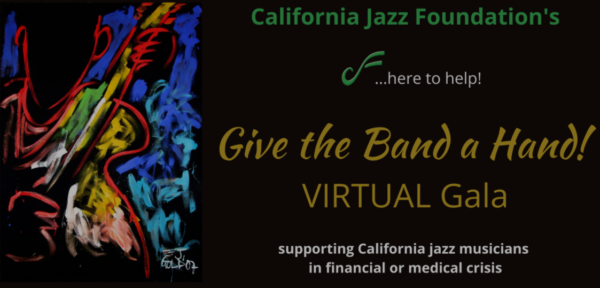 Please join us on Sunday, June 6, 2021 at 6:00 PM as we honor Tim Jackson, Artistic Director of the Monterey Jazz Festival, and Artistic Director and Co-Founder of Kuumbwa Jazz in Santa Cruz; and pay tribute to the memory of beloved jazz pianist, composer, and arranger Horace Silver.
In 2006, The California Jazz Foundation was founded to assist California's jazz musicians in financial and/or medical crisis. To raise funds for this important cause, the Foundation commenced an annual fundraiser – Give the Band a Hand!
Hosted by: LeRoy Downs
Special guests and performers include Billy Childs, John Clayton, Gerald Clayton, Peter Erskine, Russell Ferrante, Lee Ritenour, Darynn Dean, Scott Tixier, and Alonzo Bodden, with more to be announced in the coming weeks.
Our VIRTUAL evening will include several musical tributes, heartfelt accolades, and entertaining presentations as we raise funds to support California musicians in critical financial and/or medical need. This year, more than any other, we must support those who have given us so much joy, often with so little in return.
Click on the buttons below to register – with or without a donation – and join us on
Sunday, June 6, 2021 at 6:00pm in supporting California jazz musicians.
We would also appreciate your consideration of becoming a sponsor to further support our efforts. Thank you.