WDR Big Band: The Jazz South African Roots Summit
With • Tutu Pouane (ZA), vocals • John Clayton (US), direction and arrangement
March 25, 2022 ~ 8:00PM Concert is part of the Duisburg AKZENTE Festival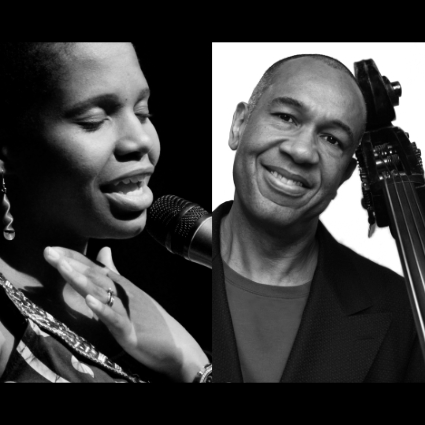 "We'll be back!"… can now finally take place on March 25, 2022 – a full 2 ​​years after the Corona pandemic caused the cancellation of this big event. With John Clayton as arranger and conductor and Tutu Puoane as singer, the Big Band brings two top international artists to the stage. We will experience a festival – this time in the Great Hall, the so-called Philharmonie of the Mercator Hall.
What will the conditions for the event be like? That can be predicted with the best will in the world and not from any coffee grounds. The Great Hall offers the best conditions in terms of size and technology. Therefore, be optimistic with us that the concert can take place. Anyone who has purchased a ticket for the canceled event or a subscription retains their seat entitlement, but he/she will receive a new ticket with a new placement or can order a new ticket online.
The tickets for the old concert date March 25th, 2020 remain valid. More information at www.mercatorjazz.de/news.
Tutu Pouane grew up in South Africa, and jazz was an integral part of her life from an early age. When the singer with the magical and wonderfully down-to-earth timbre now works with the WDR Big Band and the renowned American arranger John Clayton, a childhood dream comes true for her. In addition to songs from their South African homeland, the program also includes American jazz standards. The new series Pure Sounds loosens the classic "border" between audience and podium, the proximity to the band creates a completely new atmosphere.
The regulations of the state government of North Rhine-Westphalia for protection in the corona pandemic apply to the performance of the concert. Admission only for those who have been vaccinated twice and those who have recovered (2-G rule) upon presentation of identity papers. Please inform yourself on the website of the state government and also on www.mercatorjazz.de/news.
entrance fees €25.00 | reduced 15.00 € in advance and as an online ticket with additional fees. Approval of the pre-sale with VA approval according to the Corona Protection Ordinance. Box office: €32.00 | reduced €20.00.
Tickets can already be pre-ordered directly from the organizer and at a lower price via www.mercatorjazz.de.