Los Angeles Jazz Society – A CELEBRATION – For the LOVE of JAZZ!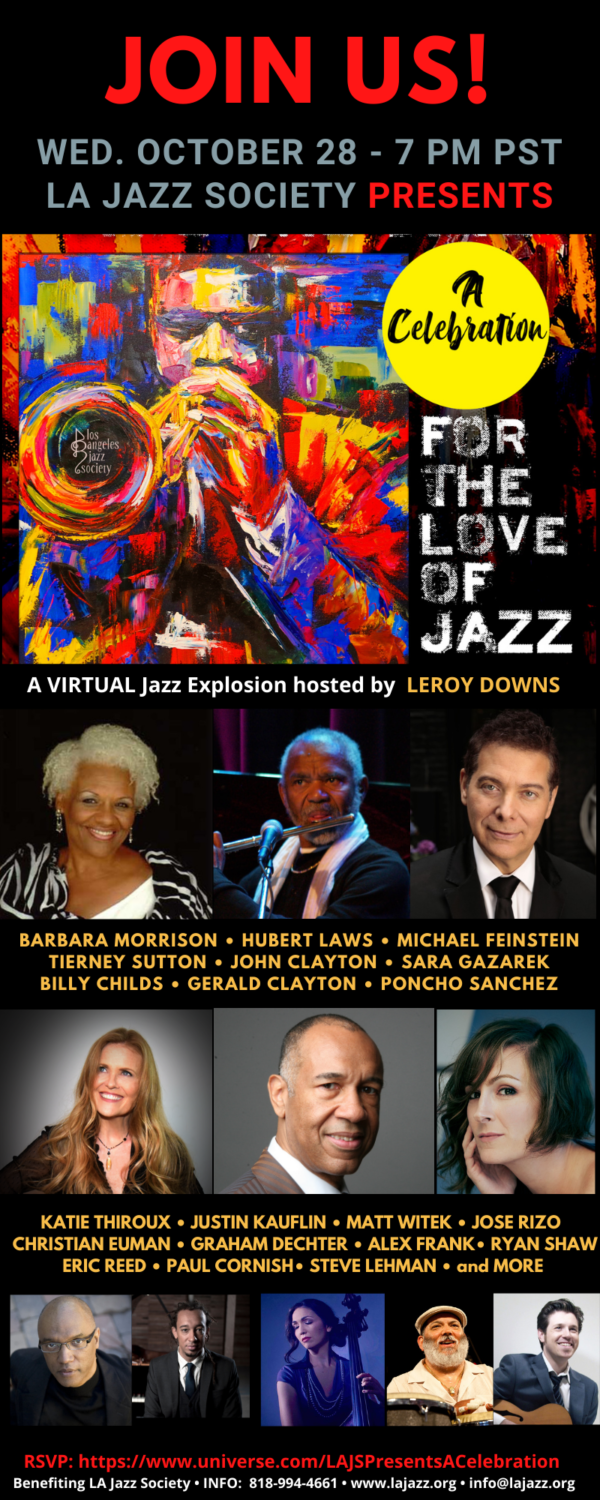 WEDNESDAY, October 28 – 7:00pm PST, 10:00pm EST
A CELEBRATION – For the LOVE of JAZZ! Over 20 artists including Barbara Morrison, Michael Feinstein, Hubert Laws, John Clayton, Billy Childs, Tierney Sutton, Gerald Clayton, Katie Thiroux, Poncho Sanchez – and more – livestreaming from World Stage and all hosted by LeRoy Downs from KJAZZ — RESERVE NOW —
https://www.universe.com/LAJSPresentsACelebration
Each year the Los Angeles Jazz Society's Jazz Tribute Awards Concert celebrates jazz and the talented people who have made this extraordinary music their life's passion – all to raise funds for our important jazz education programs, benefiting many thousands of young people in the LAUSD public schools and beyond each year.
This year, due to COVID restrictions, we are forced to change our plans. We developed our 'LA Jazz Presents' for Thursday evenings, to support jazz musicians, and to showcase our Young Musicians, but we need more! We aren't allowed to gather together to celebrate, but we are determined to bring you some amazing jazz – Virtually! You won't need to get your hair done or buy a new outfit, drive to the theatre and park – just stay home, sit back and relax and we'll bring the concerts to you via ZOOM.
Please join us for a spectacular evening of jazz artists — our LIVE stage will be at The World Stage in Leimert Park. Others will be zooming in from their home studios. Our evening will once again benefit the many programs of the LA Jazz Society including Jazz in Schools, Bill Green Mentorship Program, New Note Commission, and LA Jazz Society Presents Young Musicians Showcase. We will also be making a donation to The World Stage!