LOS ANGELES JAZZ SOCIETY PRESENTS
2022 JAZZ TRIBUTE CONCERT & AWARDS – LIVE
Sat, Oct 29th 7:30pm – 9:30pm
The Montalban Theatre
1615 Vine St, Los Angeles, CA 90028, USA
Honoring/performing: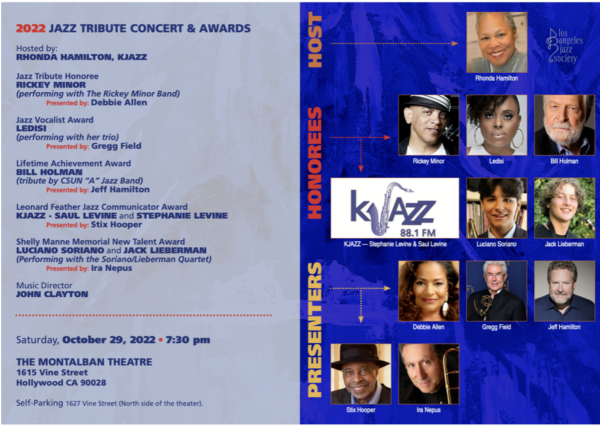 TRIBUTE HONOREE: Emmy Award winning Music Director/Producer/Composer/bass player RICKEY MINOR
JAZZ VOCALIST: Renowned Grammy winning jazz vocalist LEDISI
LIFETIME ACHIEVEMENT AWARD: Composer/arranger/conductor BILL HOLMAN
LEONARD FEATHER COMMUNICATOR AWARD: KJAZZ – Saul Levine and Stephanie Levine
SHELLY MANNE NEW TALENT: Exciting young trombonist LUCIANO SORIANO and Saxophonist JACK LIEBERMAN
(This is a LIVE event – NOT zoom)
Hosted by: Rhonda Hamilton, KJAZZ
Performances by: The Rickey Minor Band
Ledisi with her trio
Cal State University Northridge Jazz "A" Band
Luciano Soriano and Jack Lieberman Quartet
and a few surprises
SPECIAL GUESTS include: Debbie Allen, Gregg Field, Jeff Hamilton, Stix Hooper, Ira Nepus
This year, we are excite
d to return to the LIVE Tribute format as we present the 2022 Jazz Tribute Awards Concert on Saturday, October 29th, at The Montalban Theatre in Hollywood honoring the amazing Rickey MInor. The Jazz Society will salute Rickey for his amazing career working with the biggest music talent in
the world including Beyonce, Usher, Adele, Stevie Wonder, Celine Dion, Whitney Houston an
d many, many more. As Music Director, Producer, Composer, Bass player, Conductor and Author.
Our concert event will also present Ledisi with the Jazz Vocalist Award – she is one of the busiest jazz artists today – 12 time Grammy nominated – winning in 2021 – performing in film, television, solo and on tour; the legendary Bill Holman will receive our Lifetime Achievement Award for over 70 years of arranging, composing and conducting – receiving three Grammys. We're thrilled to honor KJAZZ radio – Saul Levine and Stephanie Levine – for their longstanding commitment and support of the jazz community with free jazz programs at local high schools; and extensive and diverse jazz programming. And, talented young trombonist Luciano Soriano, along with saxophonist Jack Lieberman will jointly accept the 2022 Shelly Manne New Talent Award.
Please join us in supporting this spectacular event and the many programs of the LA Jazz Society by becoming a sponsor, purchasing VIP/orchestra tickets and/or placing a tribute ad to our honorees. (please email [email protected] for sponsor/advertising info.)
The annual Los Angeles Jazz Society's Jazz Tribute Awards Concert celebrates jazz and the talented people who have made this extraordinary music their life's passion – all to raise funds for their important jazz education programs, benefiting many thousands of young people in the LAUSD public schools each year.
This annual Tribute is the Society's primary fundraiser and we hope you will help us continue our highly acclaimed programs (Jazz in Schools, Bill Green Mentorship Program, Jeff Clayton Memorial New Note Commission) by supporting this year's Jazz Tribute.