Austin Bass Hang Presents: Teachers Hang
Sunday, September 6, 2020 at 1pm
(Texas time)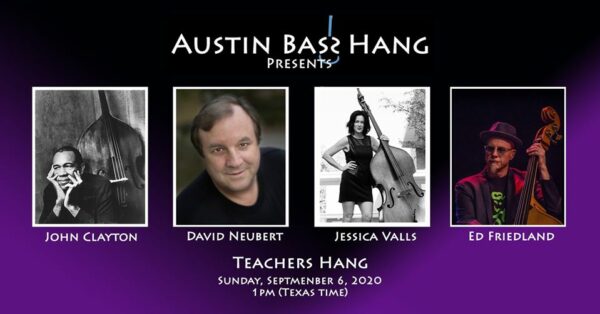 September's Webinar will focus on bass educators. What's going on in the world of string bass education? How do these great bassists experience the instrument through teaching?
We'll have a great time hanging with John Clayton, Jessica Valls, David Neubert, and Ed Friedland.
Join us on Sunday, September 6, at 1pm (Texas time).
CLICK HERE to register to attend
Austin Bass Hang is offered to string bassists (of any skill or genre) living, working, or traveling through the city as a chance to meet with each other, share experiences, work thru technique, gear, performance, and professional issues … or just hang!