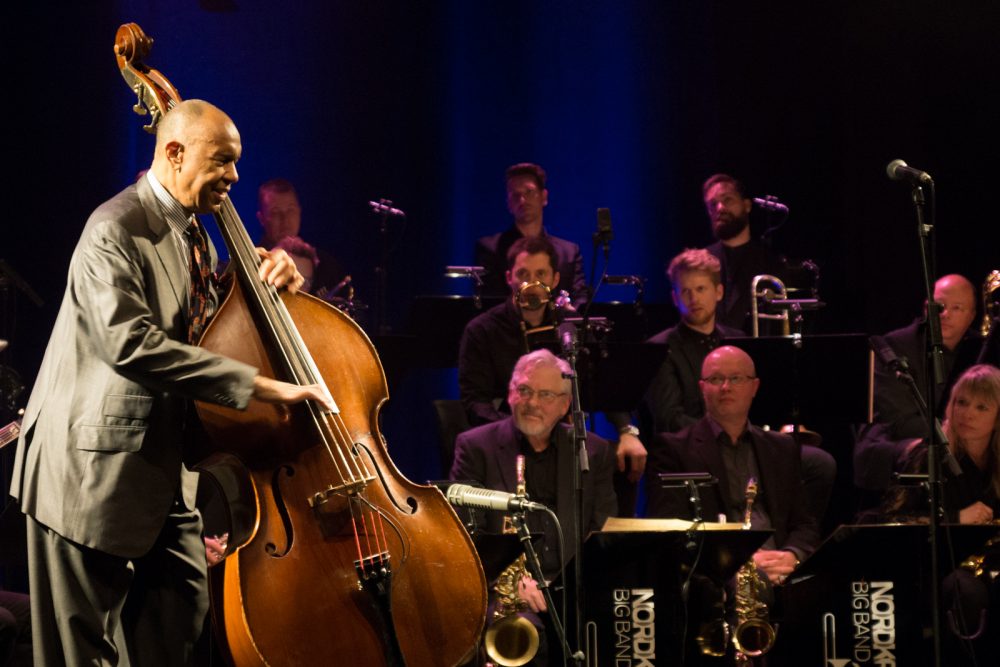 Time and place:
 Sat 17 November 2018 at. 16:00, Vendsyssel Theater, Banegårdspladsen 4, Hjørring
Buy tickets
John Clayton is one of the biggest contemporary musicians in the international jazz scene and is among others known from his long-standing work with the Canadian pianist and singer Diana Krall. In 2018 and 2019, Clayton is affiliated with Nordkraft Big Band as an artistic director. 

You quickly feel Clayton's very energetic and compassionate character when he takes the stage and leads the big band, and we promise a brag of a concert. The repertoire will mainly consist of Clayton's own material that draws on Count Basies, Duke Ellington's and Thad Jones legendary colors and sound images. It's all spiced with interesting touches on the double bass from the master himself. It's popular, it swings and that sounds good!
JOHN CLAYTON
In addition to collaborating with Diana Krall, star names like Oscar Peterson Trio, Paul McCartney, Regina Carter, Dee Dee Bridgewater, The Count Basie Orchestra, Queen Latifah, Charles Aznavour, Whitney Houston, Milt Jackson, Monty Alexander and many others have enjoyed Clayton's accompaniment, compositions and events. 
Clayton is also the leader of The Clayton-Hamilton Jazz Orchestra, along with his brother, saxophonist Jeff Clayton, and legendary drummer Jeff Hamilton.
NORDKRAFT BIG BAND
Is Aalborg and Nordjylland's rhythmic ensemble, with roots in the American big band tradition. Over the last couple of years, Bigband has been one of the country's best big bands, and has worked with Bob Mintzer (USA), John Clayton (USA), Szhirley, Nikolaj Bentzon, Sinne Eeg, Roger Neumann (USA), Bobo Moreno, Birthe Kjær, Niels Jørgen Steen, Robben Ford (USA), Veronica Mortensen, Mike Andersen, Søren Sko and Dorthe Gerlach.
Starring: Nordkraft Big Band & John Clayton (conductor / soloist)
Nordkraft Big Band was supported in 2018 by the State Art Foundation, Aalborg Municipality, Spar Nord Foundation, Gudrun & Palle Mørch's Memorial Fund and the Oticon Foundation.