Nordkraft Big Band & John Clayton
Time and place: Thursday, November 7, 2019 at 4 p.m. 20:00, TBA,,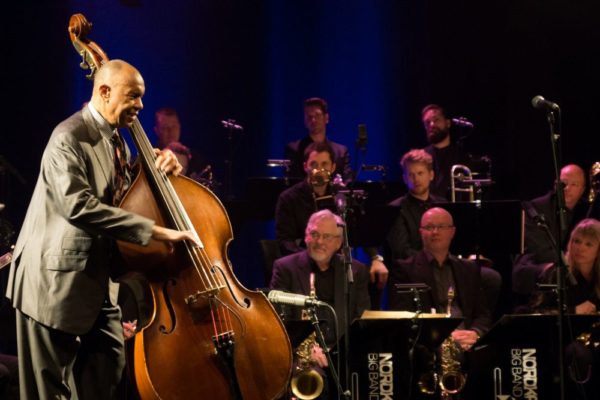 The Nordkraft Big Band goes out in the country for the last time with legendary American big band leader and jazz bassist John Clayton. Our 2.5-year collaboration ends at the end of this year.
Among other things. Aalborg, Hobro, Randers, Hjørring and Holstebro have in recent years already experienced the high musical level and great intensity when John Clayton stands in front of the Nordkraft Big Band! We promise once again a blast of a concert, with one of the greatest living jazz musicians on the international jazz scene.
The repertoire will mainly consist of Clayton's own big band events, drawing on his time in Count Basie's big band, as well as with clear inspiration for the legendary colors and soundscapes of Duke Ellington and Thad Jones. It is all spiced up with interesting features on the double bass from the master himself.
JOHN CLAYTON
Clayton is affiliated with the Nordkraft Big Band as artistic director in 2018 and 2019. For many he is completely unknown, but in music circles he is a big name! Clayton is well known, among other things, for his long-standing collaboration with Canadian pianist and singer Diana Krall, but with a Grammy on the shelf and eight more nominations, many other great artists are also fighting for a spot in his tightly packed calendar. In addition to the role of bassist, Clayton is also the leader of one of the best big bands in the United States, The Clayton-Hamilton Jazz Orchestra, along with, among others. drum legend Jeff Hamilton and brother Jeff Clayton on saxophone.
Clayton has worked with Diana Krall, Oscar Peterson Trio, Paul McCartney, Regina Carter, Dee Dee Bridgewater, The Count Basie Orchestra, Queen Latifah, Charles Aznavour, Whitney Houston, Milt Jackson, Monty Alexander and many others.
NORDKRAFT BIG BAND
In 2018, they released the record Nordkraft Plays Mintzer – a live concert from Musikkens Hus in Aalborg with American star saxophonist Bob Mintzer, which has received great praise. In 2018, the big band has also premiered NIkolaj Bentzon's 24-hour series, written for Nordkraft Big Band, staged in beautiful lighting design at Teater Nordkraft in Aalborg. In other words, this is a high-level forward-thinking big band, which over the past few years has marked itself as one of Jutland's leading big bands.
Nordkraft Big Band is Aalborg and North Jutland's rhythmic ensemble, with roots in the American big band tradition. The big band has worked with Bob Mintzer (USA), John Clayton (USA), Szhirley, Martin Brygmann, Nikolaj Bentzon, Sinne Eeg, Roger Neumann (USA), Bobo Moreno, Birthe Kjær, Niels Jørgen Steen, Robben Ford (USA) ), Veronica Mortensen, Mike Andersen, Søren Shoes and Dorthe Gerlach.