LA Jazz Society Tribute
Saturday, October 5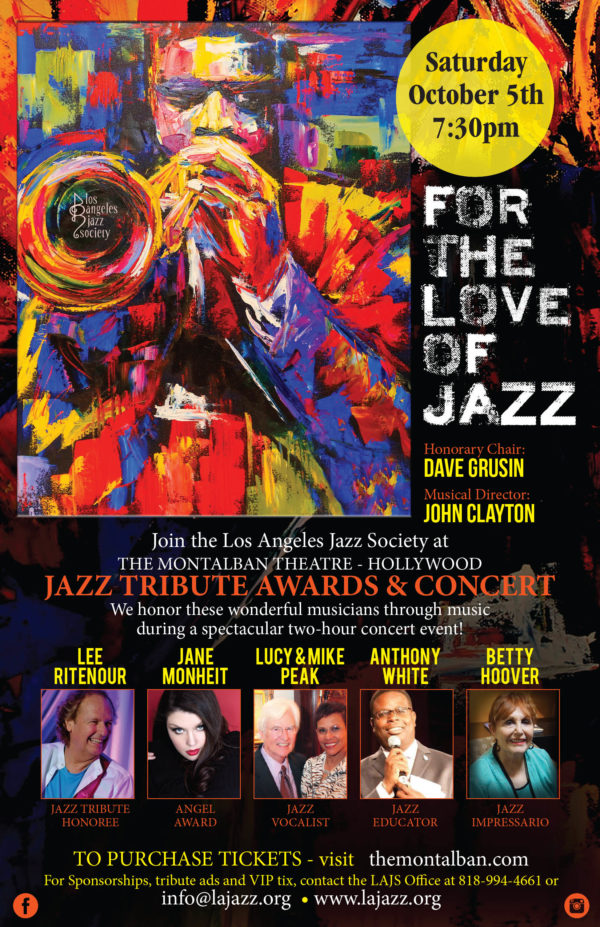 Join Honorary Chair Dave Grusin and the Los Angeles Jazz Society at the 2019 Jazz Tribute Awards & Concert Saturday, October 5, 2019 7:30PM at the historic Montalbán Theatre located in the heart of Hollywood.
This year the LA Jazz Society will pay a special tribute to American jazz guitarist Lee Ritenour, as well as honor jazz vocalist Jane Monheit; angel awardees Lucy & Mike Peak; jazz musician and educator Anthony White; and jazz impresario Betty Hoover. All proceeds will benefit the jazz education programs of the LA Jazz Society.
$40-$150
 | 
Oct 5, 2019
 | 
7:30PM – 10:00PM
For more information, please email any questions or concerns to [email protected] or call the LA Jazz Society office at (818)-994-4661.
Check out www.lajazz.org to keep up with the LA Jazz Society.